Not in the mood to blog. But I am. I feel weird.
I cleaned my room. It feels really refreshing to be organized, I love it.
Drama with friends is hard. >.< Yeah, I know, drama happens. But still, that doesn't make the current drama less frustrating. I really really really
really
don't like it when I'm in the middle of a big situation that I have nothing to do with in the first place. I love my friends, I'm always here for them. Sometimes it's too much though.
Dear current situation:
I love all of you guys. Don't make me choose or say something bad about someone I love. I don't even understand why all of this is such a big deal, you guys are terrific friends and you shouldn't let something so small come between you.
Love,
Girl In The Middle
I have another letter. About a totally different situation.
Dear Ashton,
Don't feel bad, you're a good person. At least you let her down easy, it's not your fault you don't feel the secure-ness anymore. It's better to be out of the uneasiness, you'll see. I'm sure she'll understand soon. As I said before, you're a good person. You don't deserve to be sad, cheer up, I love seeing you happy.
Love,
Girl Who Cares
Alright, back to reality. I'm slowly getting happier about things, but it's so hard to be responsible about EVERYTHING, I mean, it's hard to be perfect. I know it's okay to make mistakes.. but I need to stop making the ones I know how to avoid. But school's important, and so is being happy and organized. So I'm still trying.
You want a recipe? Kay, it's gonna be my favorite comfort food because that's what I need right now. Comfort.
from
allrecipes.com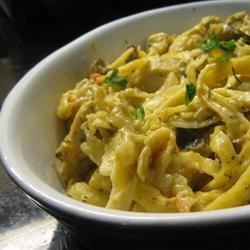 Chicken Fettuccini Alfredo!
Ingredients
6 skinless, boneless chicken breast halves - cut into cubes
6 tablespoons butter, divided
4 cloves garlic, minced, divided
1 tablespoon Italian seasoning
1 pound fettuccini pasta
1 onion, diced
1 (8 ounce) package sliced mushrooms
1/3 cup all-purpose flour
1 tablespoon salt
3/4 teaspoon ground white pepper
3 cups milk
1 cup half-and-half
3/4 cup grated Parmesan cheese
8 ounces shredded Colby-Monterey Jack cheese
3 roma (plum) tomatoes, diced
1/2 cup sour cream
Directions
In a large skillet over medium heat combine chicken, 2 tablespoons butter, garlic and Italian seasoning. Cook until chicken is no longer pink inside. Remove from skillet and set aside.

Bring a large pot of lightly salted water to a boil. Add pasta and cook for 8 to 10 minutes or until al dente; drain.

Meanwhile, melt 4 tablespoons butter in the skillet. Saute onion, 2 tablespoons garlic and mushrooms until onions are transparent. Stir in flour, salt and pepper; cook 2 minutes. Slowly add milk and half-and-half, stirring until smooth and creamy. Stir in Parmesan and Colby-Monterey Jack cheeses; stir until cheese is melted. Stir in chicken mixture, tomatoes and sour cream. Serve over cooked fettuccini.
Random facts.
♥ Best friend of the day: Mmm.. Randy.
♥ Thing I'm most excited for about my little sister (still in the womb) today: The quietness when she sleeps.
♥ Clothing item of the day: purple wrist band :)
♥ Thing I miss most about Amy today: Her random sniffles :P
♥ Favorite thing about fall today: The cold, fresh sidewalks.
Night :)