whachaaaaaaaaa. I want your liver on a platter! I ♥ Cannibal. I wish I could go to Ke$ha's concert on Feb. 18th more than anything. But I have to pay my phone bill :[ I don't think I can make sixty dollars this month. Well, actually I would have to make ninty because I'm sure my parents wouldn't let me attend a concert alone. This sucks! :/ at least I will be able to hear all about it from my friend Sheridan who is lucky enough to go!
I cut my nails this morning. I don't know why I did it. They were longer than fake nails, they were thick and strong and unchipped. It made texting easier. But I don't want to scratch Morgana when I hold her. I don't hold her that often and I'm careful enough that I probably wouldn't have ever scratched her, but for some reason I did it anyway. I'm growing them out again.
I can't wait for school tomorrow! :D
Speaking of recipes, I just made a No Bake Oreo Pie and it's in the fridge chillin' like a villain :D Oreo is my dad and I's favorite. I used to always get him Oreo cakes on his birthday. :] I can't wait to eat this Oreo Pie, it sure tasted delish when I was making it! (Op, was that outloud? O.o)
Recipe! :D aha, I think I'll do something Oreo! :]
OREO CUPCAKES. FROM
beantownmaker
1 stick unsalted butter, at room temperature
1 cup milk
2 tsp vanilla extract
2 1/4 cups flour, plus 2 Tbsp for the Oreo chunks
1 tsp baking powder
1/2 tsp salt
1 2/3 cup sugar
3 large egg whites, at room temperature
1 pkg Oreo Cookies (~45 cookies)
*Preheat over to 350F. Insert liners into a medium cupcake pan.
Twist apart 24 Oreos. Place the wafer with filling on it, filling side up, in the bottom of each paper liner. Cut other wafers in half. Save 24 halves to place in the frosting. Crush the other wafer halves, also for garnishing.
Cut the remaining Oreo cookies into quarters with a sharp knife. Toss with 2 Tbsp flour and set aside.
In a large bowl cream the butter until fluffy, about 3-5 minutes. Add the milk and vanilla and mix to combine.
In a separate bowl mix together the flour, baking powder, and salt.
Add the dry ingredients to butter mixture. Mix until integrated. Stir in sugar. With an electric mixer on low speed, beat for 30 seconds. Turn the mixer up to medium speed and beat for 2 minutes. Add the egg whites. Beat for 2 more minutes. Stir in the quartered cookies.
Fill the cupcake lines three-quarters full. Bake for about 20 minutes or until a toothpick inserted in the center of cupcakes comes out clean. Cool cupcakes in the pan.
Frosting
8 oz cream cheese at room temp
1 stick butter at room temp
1 Tbsp vanilla extract
3-4 cups powdered sugar
*Cream butter and cream cheese until fluffy.
Add vanilla extract. Slowly add powdered sugar until desired consistency is reached.
*Assemble the cupcakes
Once cupcakes have cooled completely, frost with cream cheese frosting. Sprinkle with crushed Oreos and place 1/2 of an Oreo on the frosting of each cupcake.
RANDOM PICTURES.
♥ Picture of a cute muffin: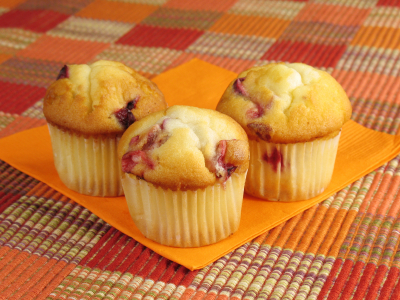 cranberry orange muffins! OMNOMNOMNOM!!!!
♥ Picture of my favorite cat breed:
American Bobtail Kitty! :[ waaaaaaaaant!
♥ Picture of my favorite horsie breed:
Morgan Horse Stallion ♥
♥ Picture of my favorite song:
♥ Picture of a shirt I want:
want. x2
Well, I know that wasn't much, but it was technically a 'full post'. :] don't cut your hair, Amy.
Bye!
kranberrie